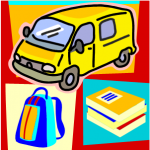 A new program to transport Special Education students in Gurnee area school districts is currently in the works, according to a recent article the Chicago Tribune (TribLocal).  The cooperating districts plan to purchase 12 vans and hire 12 drivers to improve the students experience.  The districts estimate that this will save some money.  Moreover, it will result in better screening and supervision of drivers.
The districts hope to develop their intergovernmental agreement by late May.  The districts involved are Warren Township High School (D121), Woodland (D50) and Gurnee (D56).
Currently, some Special Education students are transported in taxis to receive services that are specifically tailored to meet their special needs and are not available in their home school.