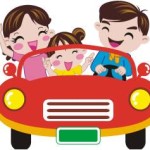 As I read about the wonderful advances being made in Chicagoland and the nation, I often find myself wondering if there is any way our family can tie-in to them.   Those social groups, work opportunities and  miracle-working professionals inspire me and I am grateful to learn about them and to be in a metropolitan area where wonderful things can and do happen.
Yet, many resources remain out of reach since they are not a "drivable distance" for our family.  We are in the Grayslake area, and we can't schedule weekly visits to a gifted therapist in Tinley Park or join an athletic team  in West Chicago.   While we can plan to participate in special events in those towns, we hope our day-to-day needs can be met by opportunities that are near us.  But how do we find them?
The idea of a "drivable distance" is one of the key concepts behind TheNemoNews.com.  Our news is hyperlocal, meaning we target a specific group of individuals within a specific geographical area — those affected by disabilities in the Lake County, Illinois area.  (You might be familiar with ThePatch.org;  they do the same kind of thing.)
TheNemoNews concentrates on resources, opportunities and events that take place within a one hour drive of Mundelein.   We promote news and information that helps us find and support each other here — where we live.
Of course, the "drivable distance" term includes the use of cars, buses, taxis, bicycles and other forms of transportation that are accessible to individuals with disabilities.  And we all know that is spotty.   (We're hoping to do an article on transportation sometime soon.)  TheNemoNews has settled into the Lake County Area, including news from Lake and McHenry Counties, sometimes Kenosha –driveable.  We occasionally include online resources that are really good.
We welcome your local news, articles and comments.