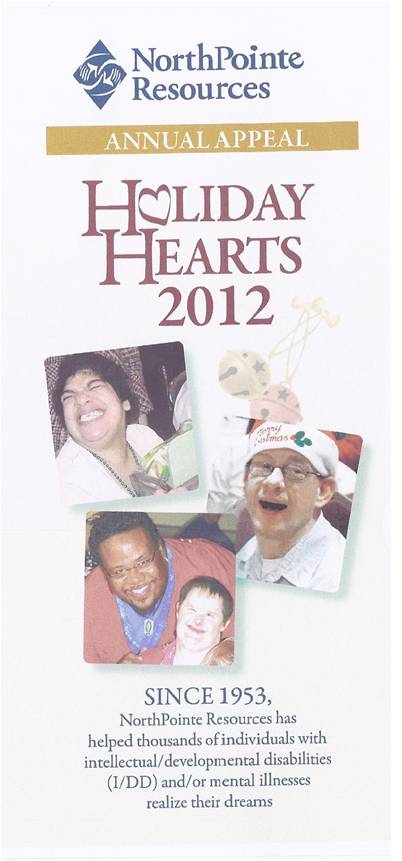 The Annual Holiday Hearts Appeal has begun at NorthPointe Resources in Zion.   The Appeal provides opportunities for donors to support individuals and programs at NorthPointe in a variety of ways.   These include:  providing gifts for individuals, sponsoring the annual holiday party, generalized support and volunteering with NorthPointe.
Holiday Gift giving can be done on a personalized or general basis.  Often this holiday gift is the only gift the individual receives in a year.  Many consumers no longer have family supports and most have extremely limited social support circles.  Donors preferring that "personal touch" can receive an individual's wishlist from NorthPointe and select a gift specifically for that person.
Alternately, $25 gift cards from a variety of stores are welcome.  At this writing, NorthPointe is short 45 gift cards.  Anyone wishing to donate a card may send it directly to Lisa Cummings at the address shown below. (See the flyer *below* for suggestions.)
Gift receipt is requested by December 14th in order to be ready for the Holiday Party.
The Holiday Hearts Party for NorthPointe consumers (clients) will be held on December 21.  A variety of sponsorship levels are available and they are recruiting volunteer elves to pass out gifts.
Finally the Holiday Hearts Appeal renews its request for donations and volunteers year round to support programs that are underfunded, and further weakened by the slow payment predicament we have in the State of Illinois.
NorthPointe Resources provides a full range of services for individuals with developmental disability and/or Mental Illnesses.  These services include Residential Services (full-time and intermittent), Vocational Services and Business Services.   Northpointe is a 501(c)(3) organization and contributions are tax-deductible.
For more information on NorthPointe and the Holiday Hearts Appeal contact Lisa Cummings, lcummings@NorthPointeResources.org, 847-731-5708.  Mail gift cards to her attention at NorthPointe Resources, 3441 Sheridan Road  Zion, IL 60099.  Click on the images below to enlarge the page.