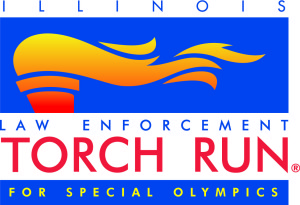 Over 100 Law Enforcement Officers will be carrying the Special Olympics Torch through Lake County on Sunday, June 9.  There are several "legs" to the run and it is likely the officers will be running somewhere near you.  Check with your local police department to see if/when you can cheer them on. The routes start at various places near the state line with Wisconsin around 6am.  They are detailed below.
These runs are part of 23 similar Torch Runs that begin in various places around the state (East St. Louis, Quincy, etc.)  All 23 segments will join up at the Opening Ceremonies are scheduled for 8 p.m. Friday, June 14 at Hancock Stadium in Normal, Illinois.
The Illinois Law Enforcement Torch Run for Special Olympics is a year round activity that has raised nearly $28 million over the last 27 years to support Special Olympics activities.   They aim to raise $3M this year.  For more information about the Torch Run visit the Special Olympics Illinois website, or visit this link   http://s162186.gridserver.com/law-enforcement-torch-run/
BTW — If you need a donut on May 31, stop by Cops on the Roof fundraiser held at these area Dunkin Donuts!  http://www.soill.org/dunkin-donuts-cop-on-rooftop/
Supporters are invited to line the course and cheer for the torch bearers
as they show their support for the Special Olympics Summer Games.
The Law Enforcement Torch Run in Lake County details follow with itineraries and maps:
The Gurnee Route begins at the Six Flags Employee Entrance on Grand and Milwaukee at 6:15am  and proceeds down Rt 21 to Dempster.  From there, it meets other legs in Proesel Park in Lincolnwood.  The Libertyville Stars Swim Team invites others to join them in front of the Baker's Square on Milwaukee (21) and Greentree.  The torch runners are expected to pass by between 7-8am.
The Sheridan Road Route  begins at 6am at Sheridan Road and 128th in Winthrop Harbor for the first segment.   They will run along Sheridan Road until they arrive in Lake Forest around 8:30.  Then they will follow Green Bay Road to Evanston and conclude in Lincolnwood around noon.  In Lincolnwood, they will meet up with runners on another leg of the Torch Run.
The Hwy 83 Route begins in Antioch at 6am.   It goes through Lake Villa, Round Lake, Grayslake, and Wauconda.  The route takes Hwy 83 to Hwy 120 to Fairfield to Chardon and ends at the Wauconda Police Department around 9: 25am.