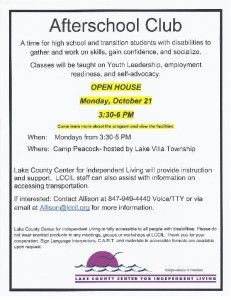 High School and transition students with disabilities have a special invitation to attend an Open House on Monday, October 21, 2013 at Camp Peacock in Lake Villa.   The Open House is to promote a new "Afterschool Club" that is sponsored  by the Lake County Center for Independent Living and the Lake Villa Township.  The Open House will take place at from 3:30-6pm.  RSVPs are encouraged.
The "Afterschool Club" will emphasize leadership, employment readiness and self-advocacy.  Anyone with an interest in helping advance young people with disabilities should attend (parents, teachers, service providers, etc.)
Getting to the event:   Camp Peacock is off Deep Lake Road, north of Grand Avenue, on Crooked Lake.    (See map below.)  Information on transportation, including use of the Northwest Demonstration Project buses is available from the LCCIL. Call Allison at 847-949-4440 allison@lccil.org.
Camp Peacock used to be a summer camp targeted at young people with disabilities. (Read Chicago Tribune article here.)  It stopped operating some years ago and was recently purchased by the Lake Villa Township.  (Read the NewsSun article here.)