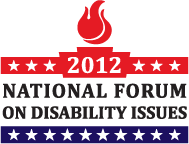 The Lake County Center for Independent Living (LCCIL) is hosting a live viewing of the second-ever National Forum on Disability Issues on Friday September 28,2012 at 11:30am.   The public is invited to attend.  The event is free but a pre-registration is encouraged.  (Attendees are encouraged to bring a brown bag lunch.)    The LCCIL is located at 377 N. Seymour Avenue in Mundelein.
The Forum is a non-partisan event originating in Columbus, OH.  Ohio candidates have been invited to attend, as well as Presidential Candidates.  More information can be found at their website:  http://www.dfdi.org.   The first National Forum on Disabilities took place in 2008.
Attendees can register to vote at the viewing.
To register, or obtain more information, please contact Allison@lccil.org or at 847-949-4440
Readers who are aware of other viewing venues are asked to post information in the Comments section  below.