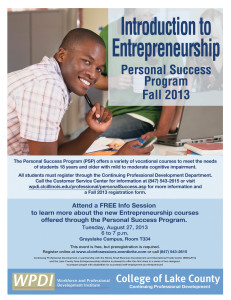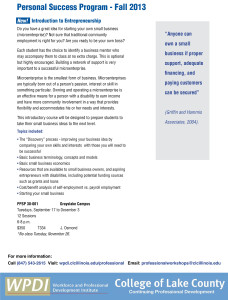 Have you wondered if you could start a business of your own?   Many have found financial and personal rewards by starting small businesses like dog walking, lawn mowing, selling their arts and crafts, providing services and other areas.    In fact, self-employment can provide a unique means of employment for those who have special needs.  Self-employment can accommodate circumstances such as variable health status, need for limited hours, transportation issues and more.  It is a viable and growing option nationwide.  If you have wished for this, you now have the chance to explore the self-employment option with support.
The Lake County Area Entrepreneurship Initiative (LCAEI) seeks to advance this entrepreneurship option, particularly for those with disabilities – old and young.  The first offering is a two-part series of classes offered at by the College of Lake County (CLC).   Enrollment will allow for two persons to attend for the price of one, so that a mentor/partner can attend with the primary student.   At the end of the series, the student should have a viable business plan that is ready for start-up and funding.   The Entrepreneurship Series will begin in September with "Introduction to Entrepreneurship" and conclude with "Writing a Business Plan" in January.
There will be an information session on the Entrepreneurship Series on Tuesday, August 27, 2013 at the CLC in Grayslake.  It will be from 6-8pm in Room T334.  At this session, you will learn about the series, the initiative, the special issues,  resources and more.  Organizers are eager to hear from those with an interest in entrepreneurship about their needs and interests.  To pre-register for this class please visit http://www.clcinfosessions.eventbrite.com     There is no fee to attend the open house.   It is open to those living outside of Lake County.
The flyer for this event can be found at:  http://thenemonews.com/entrepreneurs/clcopenhouse/
If you have questions about this initiative please contact Michael Garamoni at CLC mgaramoni@clcillinois.edu, (847) 543-2994, or Mary Curran Rhodes, mary@thenemonews.com, 847-702-2656.
Participants in this initiative (LCAEI) include the College of Lake County (CLC), Griffin-Hammis, The Illinois Association of Microboards and Cooperatives (IAMC),  The Illinois Department of Vocational Rehabilitation (DRS),  iPADDUnite, The Lake County Center for Independent Living (LCCIL),  Recycling Avenue,  The Small Business Development Corporation (SBDC), The Special Education District of Lake County (SEDOL), The University of Illinois at Chicago (UIC), TheNemoNews.com  and others.