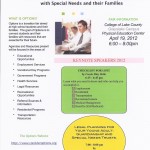 The Options Fair 2012  will be on April 19, 2012 at the Physical Education Building at the College of Lake County.  It runs from 6pm to 8pm.  If you haven't been before (or even if you have) you will want to attend this one.
The Options Fair 2012 is put together by a group of special educators around Lake County, and features workshops as well as booths.  It is a great place to learn about what is available in the area, to network, and to learn.
Click here for a list of exhibitors.