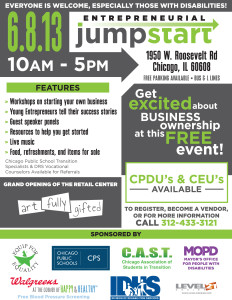 Chicagoland entrepreneurs (and wanna-bees) with Disabilities will gather this Saturday, June 8 for a day of education, networking and information.  Titled the "Entrepreneurial Jump Start" it will take place downtown at the Illinois Center for Rehabilitation and Education  (ICRE), 1950 W Roosevelt from 10am – 5pm, near UIC.
The fair will feature workshops, success stories, panels, booths and vendors.  In addition, it will mark the grand re-opening of their Artfully Gifted Retail Center — an consignment outlet for qualified business owners.
TheNemoNews recently toured the ICRE operation and was impressed by the vision and implementation of their goals and operations to promote entrepreneurship among those with disabilities.
For more information about the Entrepreneurial Jump Start contact Therese Manderino, Superintendent of the ICRE at  therese.manderino@illinois.gov, 312-433-3121.