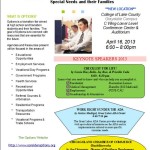 The 2013 Options Transition Fair will be held on Tuesday, April 16, 2013 from 6-8pm a the College of Lake County.   The Fair features booths and workshops of interest to transition aged  individuals with disabilities, community and education professionals and families/caregivers.    It focuses on Lake County Area resources.   The website is http://www.consideroptions.org
Last year there were over 50 booths representing education, employment, vocational and day programs, government programs,  health services, recreational opportunities, referral sources and information, residential programs, transportation resources, vocational programs and trade schools.  A directory of booths and other services will be available on the website after the Fair.
Speakers include Cassie Diaz-Bello, Joy Bux and Priscilla Cuba from SEDOL.   They will present  "Checklist for life,"  a discussion of the many elements involved in transition planning.    "Work Rights Under the ADA" will be offered by Jessica Madrigal, Great Lakes ADA Center.  In addition , Joe Chiappetta, Director of Workforce Development, will discuss "Disabilityworks", a project of the Chicagoland Chamber of Commerce.
Those who have attended the Fair before should note that it will be held in a different building  this year — in the Lower Level C Wing Conference Center.  Parking is available in lots 4, 5, 6, 7 and 7A.
Sponsoring organizations include Adlai Stevenson High School, Barrington High School, College of Lake County, Deerfield/Highland Park High Schools, Glenbrook High Schools, Lake County Center for Independent Living, Libertyville/Vernon Hills High Schools, New Connection Academy, Special Education District of Lake County, and Waukegan High School/SEPTAC.
For more information contact Karen Adams at the CLC Office for Students with Disabilities at (847) 543-2454.